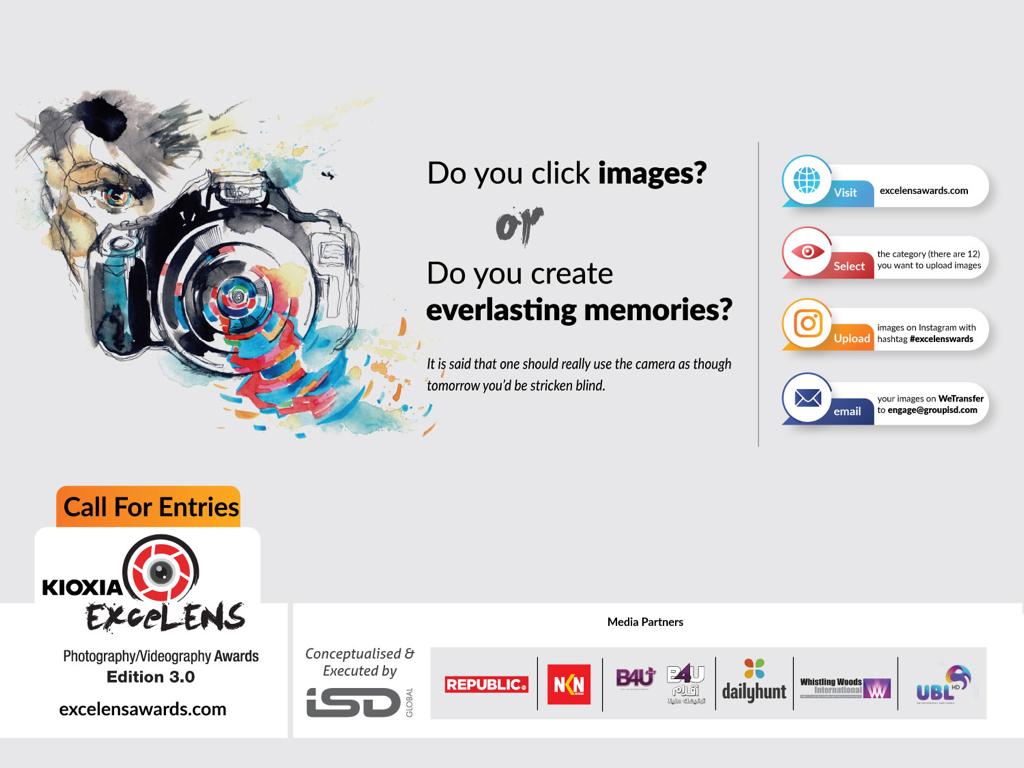 It's that time of the year when the Kioxia ExceLENS Awards( now in its 3rd edition) celebrates and recognises photography | videography | content creation talent from the region and beyond.

This year's Awards night will be held at the eclectic creative hub TODA(Theatre of Digital Art), in Souk Madinat Jumeirah, Dubai on the 29th of March, 2023.
After a phenomenal second edition which saw close to 40,000 entries coming in, the Kioxia ExceLENS Awards, Edition 3.0 is back. Conceptualised, Engineered and Executed by Dubai headquartered branding agency ISD Global, the awards is a salutation to the creativity, ingenuity and talent of the region's professional and amateur photographers and videographers. Not to mention, an initiative to enhance and bolster the creator economy by also encouraging students and home makers to participate as well.
This year's edition of the Kioxia ExceLENS Awards attracted close to 25000 entries across 15 Categories ( Including Drone, Astro & Mobile Photography) from GCC, Africa including S Africa, Philippines, Bangladesh, India, Indonesia among others.
A high level esteemed panel of 10 Jury Members consisting of award winning photographers would be evaluating and shortlisting the entries.
Bagfuls of Respect | Recognition | Rewards await the winners. Entries closed on the 5th March, 2023. Log onto Kioxia ExceLENS Awards to know more about the awards, one of the fastest growing and respected Photography | Videography Awards in the region.
" As a brand, our purpose is all about innovation, technology and progress that serves the people, the planet and the community. We at Kioxia have always recognised that memories can be everlasting and tell compelling stories. The Kioxia ExceLENS Awards, now in its 3rd edition, is delivering consistently on the promise of respecting & unearthing photography | videography talent in the region and beyond. It also dovetails seamlessly into our organisation vision of building brands while caring for the community ", avered Santosh Varghese, Vice President, Toshiba Gulf FZE.
" At ISD Global, we have always been at the forefront of innovation & creativity. Our concepts & IPs are all about identifying, reaching out, influencing & impacting communities be they Content creators, Students, C Suite Thought Leaders , CMOs, Brand Owners, Entrepreneurs or the Design community. Brand building and growing IPs is something that we take great pride in doing.
The Kioxia ExceLENS Awards is an ode to that ethos and thinking and we are grateful for the solidarity and support that brand Kioxa has invested in the initiative to make it bigger, larger, better. Our vision is to make the Kioxia ExceLENS Awards have an omni channel presence across physical, phygital, the virtual and the meta worlds, so that participants deservedly get to leverage their creativity and imagination across multiple conventional & emerging touchpoints, concluded Suresh Dinakaran, ISD Global.
All nominees and their shortlisted images will get an opportunity to participate in the Wall of Frame exhibition in Dubai that ISD Global will be curating in the month of October 2023.
Among other prizes that the winners will take away is also virtual filmmaking, screenwriting, editing or directing courses from Asia's leading film school, Whistling Woods International.
Multiple mainstream media and content partners are supporting this Kioxia ExceLENS Awards initiative and those include The Daily Hunt | TODA(Theatre of Digital Art)| UBL HD TV | B4U+ | B4U Aflam | Whistling Woods International | Republic TV | NKN Media among others.
ISD Global are also the entity behind media assets like BrandKnew (that provides actionable intelligence to the branding, marketing, design thinking, advertising & media communities), content platforms like Weeklileaks, trends forecasting initiatives like Phewturecast, IPs like the HACKCELLENCE FEST ( a virtual Davos for the student community), the CEO Meet, among several others.

…
Seeking to build and grow your brand using the force of consumer insight, strategic foresight, creative disruption and technology prowess? Talk to us at +971 50 6254340 or engage@groupisd.com or visit www.groupisd.com/story